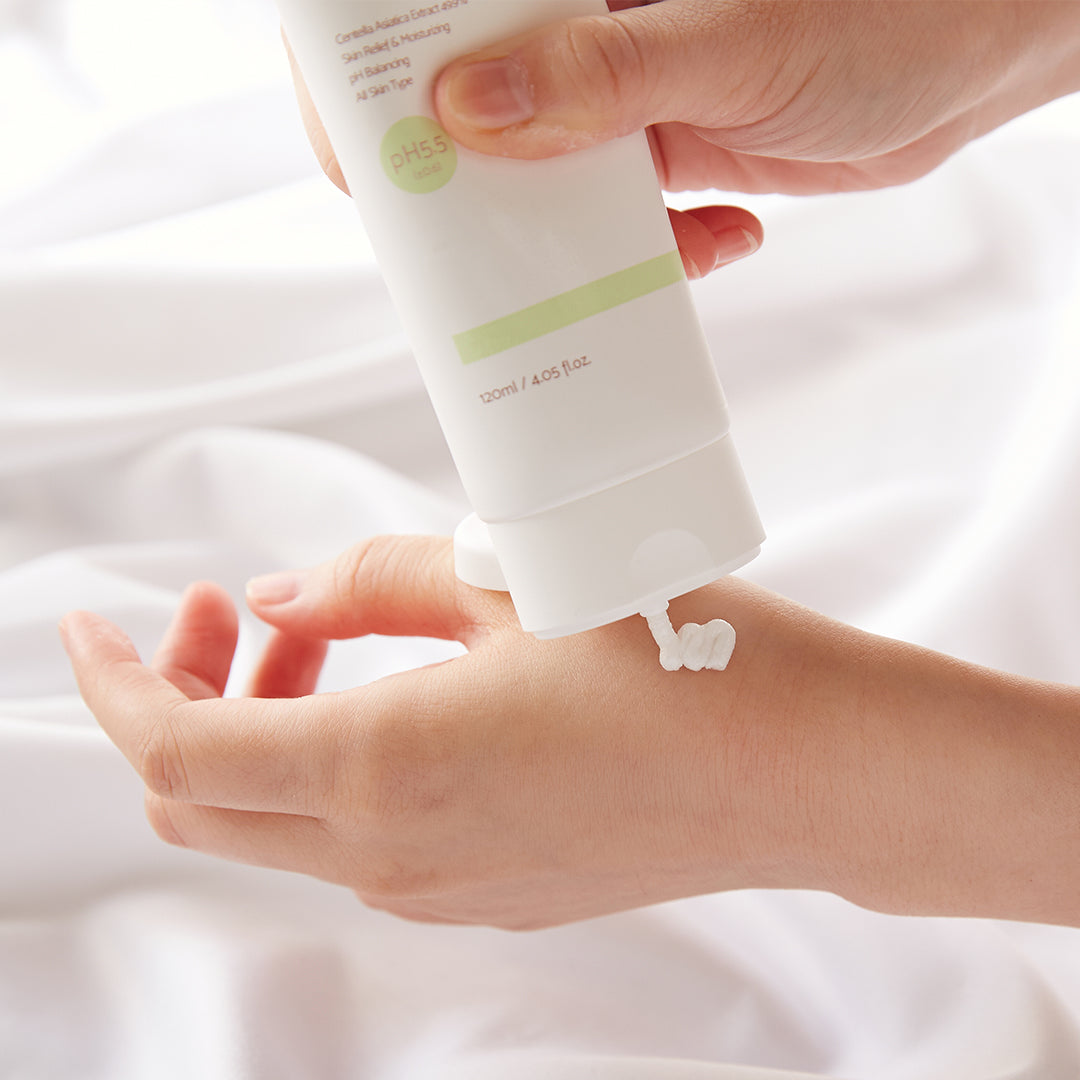 Seek Space Team's Holy Grail Cleansers
We're always recommending you tips, tricks, and products that will work best for your skin type. This time, we're showing you the team's current favorite cleansers and you'll find that while some of us share the same skin type and concern, we might not share the same favorite cleanser! 
B.C.
Skin Type: Combination / Acne-Prone / Sensitive
Favorite Cleanser: Isntree Green Tea Fresh Cleanser
Why I love it: I love the soft-gel texture! It gives a thorough non-stripping cleanse that's also so soothing and calming, perfect for my sensitive acne and eczema prone skin.
Notes: Finding the perfect cleanser is HARD for me! Strong cleansers make my skin oilier while mild cleansers don't give me enough of a cleanse, both of which can lead to breakouts. I also tend to switch it up depending on how my skin is feeling, on dry days I'll cleanse with water in the morning and on oily days I'll use iUNIK's Mild Cleanser!
S.L.
Skin Type: Combination
Favorite Cleanser: Beauty of Joseon Green Plum Refreshing Cleanser
Why I love it: It's not too drying, has no strong smell, and makes me feel fresh!
Notes: I also love Kaine's Rosemary Cleanser, because of the herbal smell and gives a more 'refreshing' feel than BoJ Green Plum. 'Refreshing' is really important to me in a cleanser. I can tell it's really cleaning my skin, and helps with blackheads around my nose.
Y.L.
Skin Type: Oily / Combination
Favorite Cleanser: Axis-Y Sunday Morning Refreshing Cleansing Foam
Why I love it:  The perfect balance of effective, foamy cleansing, but still leaving my skin moist and comfortable post-cleansing. Also the tube looks very pretty by my sink!
Notes: I don't always use a cleanser in the morning, just water or I cleanse my t-zone only. I use AXIS Y Sunday Morning most days, and replace it with KAINE's Rosemary Cleanser other days. I always prefer toner exfoliants (2-3x a week), but using Kaine every other night allows me to use it 1x a week, which makes for a less irritating exfoliation routine overall.
R.A.
Favorite Cleanser: iUNIK Centella Mild Cleansing Foam
Why I love it: With other cleansers, I usually wake up in the morning with a very oily face. I use the Iunik Centella Mild Cleansing Foam as my night cleanser and this one really controls my oil and sebum production overnight! Plus, it is not drying and makes my skin feel hydrated enough.
Notes: I first used the Centella Bubble Foam before but I think it was too gentle for my very oily skin. Using the Centella Mild Cleansing Foam with the Chestnut Toner does wonders for my oily skin with clogged pores!
R.E.
Skin Type: Dry / Combination
Favorite Cleanser: iUNIK Centella Bubble Cleansing Foam
Why I love it:  I'm more on the dry side but I tend to get sebaceous filaments / blackheads on my nose. The iUNIK foam is perfect because it's not drying for my dry-ish skin, actually even leaves it feeling hydrated, clean and helps clear my blackheads! 
Notes: I also loved Axis-Y's Sunday Morning Foam but the Centella Bubble Foam helping my blackheads made it my favorite!
C.M.
Skin Type: Combination / Acneic
Favorite Cleanser: Isntree Onion Newpair Cleansing Foam
Why I love it: I'm currently dealing with a lot of texture, dark spots, and dullness caused by frequent breakouts. Isntree's Onion Cleansing Foam has been helpful in terms of evening out my skin tone, and amazingly it did help brighten some of my newer post-acne marks. I love how my face feels soft after cleansing, too!
Notes: I usually go for stronger cleansers (green tea-derived products have also worked well for me in the past) but since my face has been a bit sensitive and irate lately, (because of the weather, wearing face mask, etc) I find my current cleanser does its job perfectly!